ACRC at the Alaska EPSCoR All Hands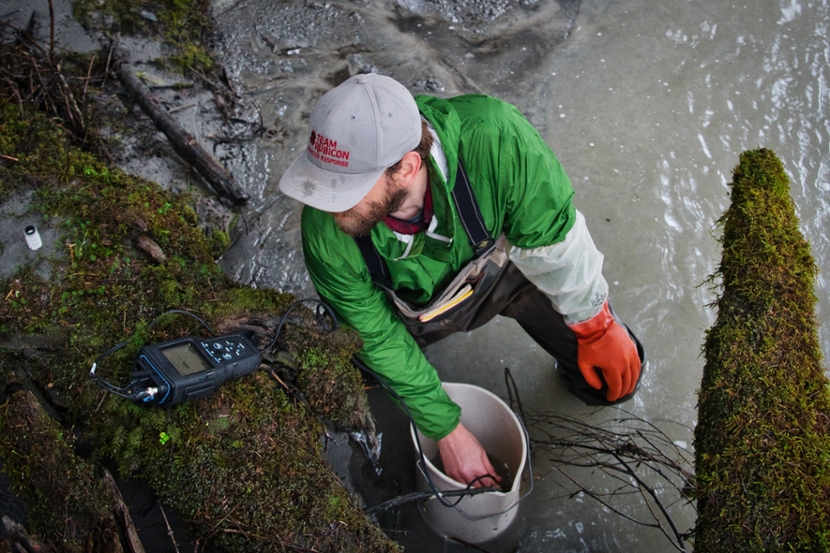 ACRC intern Randy Brannan presented his work on sediment concentrations in glacial runoff streams at the Alaska EPSCoR All Hands Meeting in Girdwood this month.
His research, modeling the relationship between stream samples of total suspended solids and sensor measurements of turbidity, could improve our understanding and monitoring of sediment concentrations in watersheds with glacial coverage.
"We get these storm activities and different geomorphic activities, such as landslides that can cause a large input of sediment, nutrients, and other chemicals and compounds into river systems which are then exported out of the system into the estuaries. But to track these things we can't be present for 24 hours at every site," said Brannan.
Sensors installed throughout watersheds near Juneau provide hourly data on stream turbidity, or the clarity of the water, but the relationship of these measurements to the amount of suspended sediment in glacial streams hasn't been well defined. Modeling this relationship could vastly improve the resolution of stream data for the region and inform ecosystem processes such as the carbon budget of streams in the region.
Brannan's findings highlight the annual variance in the relationship between sensor measurements and suspended solid concentrations, particularly in dynamic glacial streams.These findings illustrate the need for annual sampling and regression analysis to validate the stream and sensor relationship as the stream, and relationship, changes.
Brannan's work is part of the Alaska EPSCoR Fire & Ice project, a 5-year, $20 million effort to conduct research into changes to fire risk and behavior in Alaska's boreal forest and changes to physical and chemical variables that influence biological communities in the nearshore Gulf of Alaska.
"I didn't realize how big of a network EPSCoR was, from research on wildfires in Interior Alaska to marine and estuary life out in Kachemak bay. It was really cool to see how all of the different aspects of this same project are tied together in some way," said Brannan.