​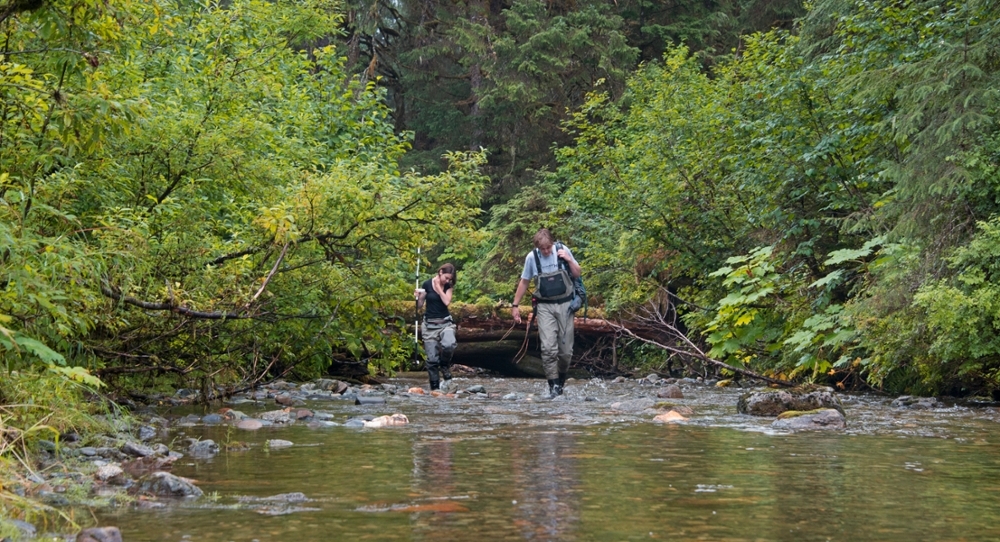 Stream Chemistry Monitoring
From land to sea, streams move a massive amount of organic matter into the ocean. As water moves through soil and into streams, it carries dissolved organic matter, often from decomposing plant and soil materials it comes in contact with. The transport of materials in streams has tremendous impacts for this region as well as the global carbon budget: acre for acre, Southeast Alaska watersheds transport several times as much dissolved organic carbon as the world average.
Juneau is unique in Southeast Alaska for the ability to access several distinct stream types from the road system. This makes doing routine stream monitoring possible over the entire year. Studying water properties in this region can help shed light on the influence of glaciers on downstream ecosystems, the movement of carbon and other nutrients between the land and ocean, and the patterns of stream flow throughout the year. Since 2012, ACRC researchers led by Jason Fellman and Eran Hood have monitored six streams with data-logging sensors and monthly water sample collections. In addition to water quality measurements like temperature, dissolved oxygen, and pH, the sensors track stream discharge throughout the year. In some instances, the researchers collect isotopes to trace water–be it glacial, snowmelt, or rain–back to the source, and look at the glacial influence on water chemistry in these watersheds.
The data collected provides an important foundation for other research, including salmon food web dynamics, soil water studies, freshwater influence on coastal estuaries, as well as informs fisheries management for the region.
Stream Carbon
With support from the ACRC, graduate student Megan Behnke (Florida State University) is studying how the chemical properties of organic matter change throughout forested and wetland-dominated watersheds in Southeast Alaska. The chemical processes that alter dissolved organic matter during its journey from land to ocean are complex. By determining the chemical "fingerprints" that aspects of terrestrial ecosystems (such as different types of trees, or different soil types) impart on rain and soil water, we can better understand what factors have the greatest influence on water chemistry. This data, in turn, will allow us to better understand what fuels the base of stream food webs and how limiting nutrients, such as nitrogen and phosphorus are transported from land to sea.
Behnke will identify chemical compounds in samples from peatland, forested wetland, and forested upland ecosystems, match the complex chemical fingerprints to their origins, and look at how microbes eat away at organic matter over the course of stream flow. 
This research will address other unknowns, such as measuring the contribution of organic matter from trees carried by rainfall into the soil, and the rate of movement of old carbon stored in peatlands back into the ecosystem. Behnke will also examine trends related to high water flow following storm events, and low water flow at dry intervals, as well as how seasonality affects the movement of organic material.
Publications